The ADC12 aluminum ingot is integrally molded by die casting to meet the heat dissipation requirements.
Spray outdoor pink optional, quality assurance, over 100 tests, salt spray test for 1000 hours.
Adopting optional brand light sources such as SAMSUNG and LUMILEDS, the color rendering index Ra> 80;
Through the internationally recognized LM80 standard, the light fade is small, the stability is the best, and the life is longer.
HBG series MEANWELL 5-year warranty drive power supply.
Optional controller for intelligent lighting.
The aluminum substrate adopts AL6061 and has a thickness of 1.5mm. The light source is more uniform and faster.
The internal use of PC lens light distribution, the material is made of Japanese Teijin PC material, the light transmittance is up to 92%, and the light effect is higher.
The exterior is protected by high-transparent quartz tempered glass, which has a light transmission of up to 92% and a higher luminous efficiency.
Working environment temperature: -30 ° C ~ + 55 ° C
IP65 protection level.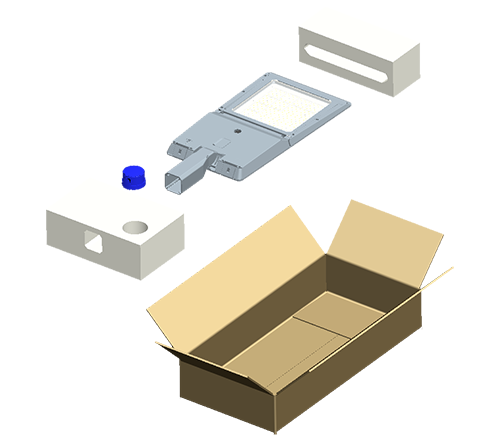 Do Not Use Other Devices for LED Street Light ,Installation Such as Stabilizer, Regulator …etc
l Do Not Open the Light Engine
l Do Not Soak the LED Street Light into Water
l Do Not Light up the System Without Grounding
l 1-10V dimming need to be customized
l Operation Ambient Temperature -20 to +50¡ãC, Relative Humidity 20~90%
l Input Voltage 90~305V AC, 50/60Hz
l Storage Ambient Temperature -20 to +60¡ãC, Relative Humidity 5~95%
l Mounting Height : Suitable for 6~12m height